Indoor Analytical Services
Indoor Air Quality / Mold Surveys.
EMF Surveys.
Wiring System Commissioning.
EMI (Electromagnetic Interference) source location. Correction where possible.
Pre-construction consulting with client or architect,
to preclude integrating problems into a new structure.
Pre-purchase / pre-lease consulting to identify
problem areas, before moving to a new residence.
----------------------------------------------
E. A. Inc. can remediate Alternating Electric and Magnetic fields in cooperation with an electrician of your choice.
E. A. Inc. can work with your physician to identify the nature of the biological irritant, and recommend corrective measures to reduce or eliminate the irritant.
Fee Structure:

Survey and written Report with:
First Hour on site, or any portion thereof: $200

Additional time: - - - - - - - - - - - - - $120 / hour
(an IAQ or EMF assessment usually lasts one to two hours),
(Coverage of Both IAQ and EMF requires two to four hours).
Expedited Availability fee (two days): +$200
Expedited Report fee: - - - - - - - - - - - +$200

Travel
$60 / hour, for additional time beyond a two-hour round trip from Phillipsburg, NJ.
Travel to NYC area requires 4 Hrs or more round trip, causing at least 2 hours charged

General note about travel estimates: I use GPS as a means of navigating most anywhere. However, the estimates are generally incorrect, except for very brief, or short, trips. When more than one hour of one-way travel is involved, there arises the unpredictability of traffic delays, and other necessities such as fuel, food, and rest stops. While navigation systems estimate travel time based on continuous travel at the speed limit, reality limits travel to and average of about 50 mph, increasing any navigational estimate. Ironically, when I was younger and hitchhiked across America on various occasions, then too I averaged about 50 mph.
Environmental issues are not emergencies, usually. If you just bought a meter, and it gives you some numbers you are concerned about, realize that you may have been exposed to those "numbers" for some time. You will not die from that exposure, just because you now know of it. Asking me then to drop everything and come running will require extra cost, because I may have to deny other clients the benefit of my services.
Samples for lab analysis: $50 each and up, depending on the type of sample.

Expedited lab analysis fee: varies with level of urgency.

Offsite Research / Documentation: $90/hour.

Remote Consulting: First 15 minutes free, then $90/hour.
( This includes E-mail, which also takes time.)
---> PayPal: Pay Fee / Donate. Thank You! <---
General note about measurement and fees: I am well aware that you are interested in, and deserve, legitimate data with which you can make informed decisions. However, some want "legally defensible" measurement data, or more detail. This requires more (or different) tools, additional time and premium, and increases the cost substantially. As in all things, your choices determine your cost.
Payment in full is requested at time of service, before leaving the premises. Should you wish other financial arrangements, they need to be discussed before a visit. Courtesy Discounts, when included, are at the sole discretion of the author, after payment, not before.
Environmental Assay Inc.
Sal La Duca
Indoor Environmental Consultant

BSBA (www.phoenix.edu/), BBEC (hbelc.org/),
CIEC (www.iaqa.org), RFSO trained (www.narda-sts.us)
FCC Licensed with Radar endorsement (www.fcc.gov/),
Nuclear Reactor Operator USN, 6 years,
Power System Operator, 5 kV to 230 kV, 6 years,
Nuclear / Radiological / Communications I & C Tech, 40+ years.

Whether New-contruction, Pre-purchase, or Existing, living / working spaces
evaluated for possible or existing Chemical or Electrical concerns.
Immediate recommendations, with formal follow-up report, with end-goal that
if relevant, any reduction is beneficial.
792 Green St.
Phillipsburg, NJ, 08865
(908) 454-3965




For "in person" services distant from the "local" area above, contact us for relevant fees.
Nonetheless . . . serving globally 24/7 _ on Your schedule.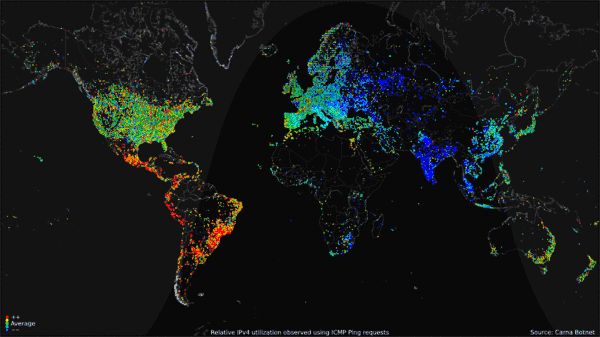 World map of 24-hour relative average utilization of IPv4 addresses observed using
ICMP ping requests as part of the Internet Census of 2012 (Carna Botnet),
June - October 2012.
Key: from red (high), to yellow, green (average), light blue, and dark blue (low).